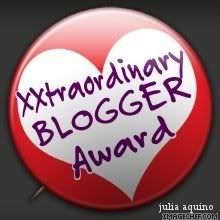 I think last week
Jessica
 gave me an award and I'm just now getting around to blogging about it--sorry Jess.  I really have been busy with school work and did I mention that David has been on vacation, so you know he throws off my schedule.  Anyway for those of you who don't know Jessica her blog is called Never a Dull Moment, and I love it.  She's a mom, wife, and student--she funny and talks about her life and school, oh and her obsession for Vera Bradley she is also very down to earth and cool and I'm so glad that I found her blog.  So again thank you Jess for giving me this award I love it and I appreciate it a lot especially since I haven't been blogging as much as I'd like to.  Ok now for the people who I think are XXtraordinary bloggers:
Tracy
: I love heading over to her blog because it's always something different.  I could be about one of her kids doing something funny, to volunteering at her daughter's school.  Oh and I love the random youtube stuff she posts and because of her I have love Rob the Intern.
Catwoman
: Here's a mom who will literally blog about anything and I mean ANYTHING; and that's what I love about her blog.  She has a great sense of humor and her letters to Little Man will melt anyone's heart.
Burg
: Another funny mom (I'm seeing a trend here) who is also down to earth and isn't afraid to talk about whatever is on her mind.  She also posts funny pics with wicked funny sayings.
Hmmm I just realized that all these women make me laugh but there is a lot more to them then the humor factor-they're real.  These women aren't afraid to blog about the good and the bad of what life has to throw at us and for that I'm grateful because it's nice to know that you're not alone even if we aren't going thru the same thing.  These women are compassionate and are always there to lend a word of encouragement so thank you ladies!