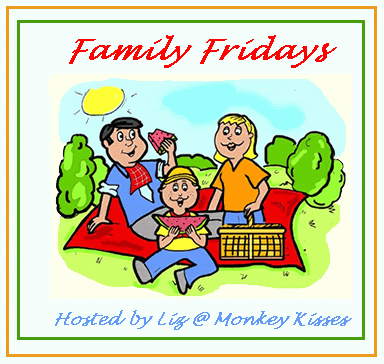 Liz at Monkey Kisses
 is starting a new blog carnival called Family Fridays where we write about something we've done with our family this week.  It can be anything-movies, games, cooking together, or playing outside.  So go on over to her blog if you want to join and sign Mr. Linky.  I'd like to hear what some of y'all do together as a family.
Ok so here is mine-Wednesday night we waited for David to get home and when he did we all piled on the bed to watch Shrek.  Chunky Monkey wasn't very interested in the movie, instead he was climbing all over us and just laughing.  We let him climb all over us and get out some of that energy since it was almost his bedtime.  Once he fell asleep the three of us watched the rest of the movie and it was so much fun.  It was so cute watching Sweet Pea's face while she was watching the movie.  Her whole face would light up and she would start laughing.  It was a lot of fun, and just nice to have all of us sit together.