"Fear of a name only increases fear of the thing itself."
 "There is no good and evil, there is only power, and those too weak to seek it..."-Harry Potter and the Sorcerer's Stone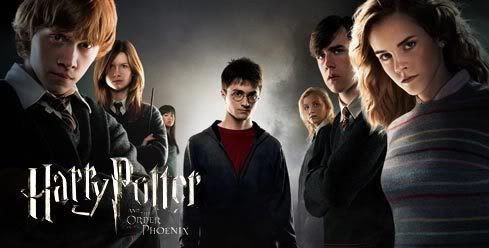 Well I finally went and saw the movie last night and it was wicked cool!  I absolutely loved it and I was not disappointed.  And yes Harry Potter is an indulgence for me which is why it's in that category.  I love, love, love Harry Potter.  Ok back to the movie, yes there were a couple of things missing from the book but lets be sensible here the movie would be like 4 hrs. long if they tried to put everything in it.  There is however a change on who told Umbridge about the D.A. in the book it wasn't Cho-I think it was her friend.  But really all in all I loved the movie.  Oh and I thought the girl who played Luna Lovegood was perfect; she was just as spacey in the book as in the movie.
I just know when the next movie comes out-The Half Blood Prince it's going to be just as good if not better.  Because really the next movie is just going to be awesome with everything that's going on.  And no I won't ruin anything for those of you who have not read the book even though I'm dying to tell y'all what I can't wait to see happen.
But my real excitement is waiting for the last book, and you better believe I have it pre-ordered and I will probably not put it down because really the suspense is killing me.  And before anyone says anything yes I know I'm a dork when it comes to Harry Potter and that's ok.  I have my own thoughts on the last book, like I don't think Harry will die in the end, his Aunt Petunia will able to do magic, *STOP READING I'M ABOUT TO SPOIL THE END FOR OOTP*, and is Sirius Black really dead.  There are a few other ones but I'm not going to say anything else so as not to spoil it for the rest of you.